Board of Directors
The EXEL Industries Board of Directors comprises eight members, including three independent members, three women and one employee representative member. Seven members are appointed by the shareholders' Annual General Meeting for a six-year term; the eighth member, representing the employees, is appointed by the Group Works Council for a three-year term. The Company is in compliance with the law on the proportion of women on the Board and with the Middlenext Code with regard to the number of independent members. Two committees assist the Board of Directors; the Audit Committee and the Remuneration and Appointments Committee. Each of these Committees is chaired by an independent member of the Board. Board members' complementary skills provide essential support to Group Executive Management with regard to its strategic ambitions and the Group's growth.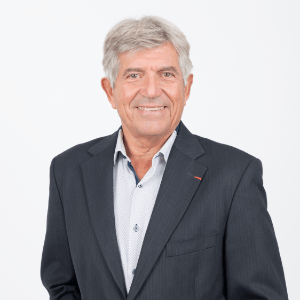 PATRICK BALLU
Chairman of the Board of Directors

PASCALE AUGER
Independent director and Chair of the Audit Committee

CLAUDE LOPEZ
Independent director and Chair of the Remuneration and Appointments Committee

ELLA ÉTIENNE-DENOY
Representing EXEL SAS

MARC BALLU
Director

CYRIL BALLU
Director

SYLVAIN MACCORIN
Director representing employees

SONIA TROCMÉ-LE PAGE
Independent director
Management team
The 17-strong management team is made up of the Chief Executive Officers of the Group's main subsidiaries and the corporate function directors based in the Group's holding company. Yves Belegaud has been CEO of the EXEL Industries Group since December 17, 2019. Yves Belegaud spent 26 years with the Terreos Group, the second largest global sugar company operating in 18 countries, where he served as Chief Executive Officer for Europe from 2014 to 2019. The other members of the management team are: Daniel Tragus, Thomas Germain, Patrick Tristani, Delphine Séférian, Philippe Besançon, Cyril Ballu, Jens Kristensen, Marc Ballu, Cédric Perres, Wim van den Bosch, Gerhard Osenberg, Fabrice Doosterlinck, Matt Hays, Bertrand Garnier, Olivier Thiéblin and Colin Chaballier.

YVES BELEGAUD
Chief Executive Officer EXEL Industries

DANIEL TRAGUS
Deputy Chief Executive Officer in charge of strategy, M&A, Industrial Property

MARC BALLU
Deputy Chief Executive Officer, Chief Executive Officer Hozelock, Tricoflex

CYRIL BALLU
Deputy Chief Executive Officer in charge of the Nautic Industry
​

​​
THOMAS GERMAIN
Chief Financial Officer
​

PATRICK TRISTANI
Chief Transformation Officer
​

DELPHINE SÉFÉRIAN
Chief Legal Officer
​

PHILIPPE BESANÇON
Chief Human Resources Officer
​

JENS KRISTENSEN
Chief Executive Officer Hardi

CÉDRIC PERRES
Chief Executive Officer Sames Kremlin

WIM VAN DEN BOSCH
Chief Executive Officer Agrifac

GERHARD OSENBERG
Chief Executive Officer Holmer

FABRICE DOOSTERLINCK
Chief Executive Officer Tricoflex

MATT HAYS
Chief Executive Officer ET Works

BERTRAND GARNIER
Chief Executive Officer Evrard, Gama Technologies, Préciculture, Supray Technologies

OLIVIER THIÉBLIN
Chief Executive Officer France Pulvé

COLIN CHABALLIER
Chief Executive Officer EXXACT Robotics
A Group in transformation

Patrick Ballu, you appointed a new Chief Executive Officer from outside the family a year ago. What is your assessment of the new situation?
"Having a Chief Executive Officer who is not from my family is a profound change, but it avoids mixing professional and family relationships.
Yves Belegaud brings us his fresh and experienced perspective, both in industry and in the agricultural sector, with which he has proven affinity. I like his way of managing: he's a decision-maker, but at the same time friendly and consensual; he also knows how to listen and how to make our teams work in a network."
Read the interview